The Watauga Medal was established in 1975 by the Board of Trustees to honor people who have made significant contributions to the advancement of the university.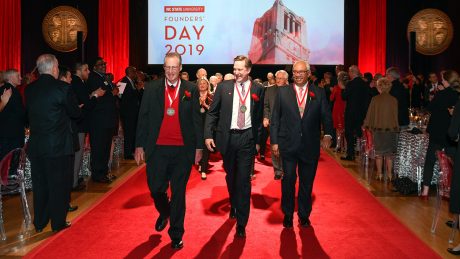 The name derives from the Watauga Club, a group founded in 1884 by young men under the age of 30. "Watauga" is a Native American word meaning "the land beyond."
This progressive group promoted the educational, agricultural and industrial development of the state.
In 1885, the club encouraged the North Carolina General Assembly to establish an industrial school. Walter Hines Page recommended that agriculture be included in the school's curriculum, thus joining the Wataugans' efforts with the land-grant movement led by Colonel Leonidas Polk, founder and editor of the Progressive Farmer.
The resulting legislation founded the North Carolina College of Agriculture and Mechanic Arts on March 7, 1887.
The selection process is a rigorous one conducted by the Watauga Medal Selection Committee, with recommendations going to the chancellor, who reviews them, and finally to the Board of Trustees. Since 1975, the Watauga Medal has been awarded to 129 men and women distinguished by their dedication and devotion to the advancement of North Carolina State University.
Past Recipients by Year
2023
Mike T. Constantino
Catherine T. Sigal
Thomas H. Stafford Jr.
2022
Brenda Brickhouse
Bill Culpepper
Jerry Jackson
2021
Glenn Futrell
Suzanne Gordon
Bob Mattocks
2020
Steve Angel
Kady Gjessing
Nancy Ridenhour
2019
S. Frank Culberson
Charles A. Flink II
James A. Stewart
2018
William K. Collins Sr.
Benjamin P. Jenkins III
2017
Barbara Goodmon
Gayle Lanier
Steve Warren
Steve Zelnak
2016
Barbara Mulkey
George Worsley
2015
Lynn Eury
Judi Grainger
2014
Burley Mitchell
Peaches Blank
2013
Thomas E. Cabaniss
Thomas S. Kenan III
Robert P. Kennel
2012
General Henry Hugh Shelton
C. Edwin Vick, Jr. (posthumously)
Cassius S. Williams
2011
T. Carlton Blalock
Derick Close
Susan P. Ward
2010
Kenneth M. "Charlie" Bryant
Hou-Min Chang
H. Frank Grainger
2009
J. Lawrence Apple
E. Norris Tolson
C. Richard Vaughn
2008
Robert A. Barnhardt
Lonnie C. Poole Jr.
Virginia B. Sall
2007
Elizabeth J. Aycock
Robert W. Scott
Randall B. Terry, Jr.
2006
Edward P. Fitts, Jr.
James W. Owens
G. Smedes York
2005
Robert E. Black, Jr.
Lois G. Britt
Dorothy D. Park
2004
Edward E. Hood, Jr.
Claude E. McKinney
Bryce R. Younts
2003
John L. Atkins III
Walter W. "Dub" Dickson
A. Tab Williams, Jr.
2002
James H. Goodnight
James A. Graham
G. Woodrow Jones
2001
S. Scott Ferebee, Jr.
Darrell V. Menscer
Edgar S. Woolard, Jr.
2000
Terrence M. Curtin
Jack P. Jordan
Blanton J. Whitmire
1999
William L. Burns, Jr.
Merlin A. "Patches" Meares
Wendell H. Murphy
1998
Burton F. Beers
W.B. Jenkins
Randall L. Ward
1997
Leslie N. Boney, Jr.
Daniel C. Gunter, Jr.
James A. Hackney III
1996
Worley H. Clark
S. Lawrence Davenport
Alan T. Dickson
1995
Ralph W. Cummings
Robert B. Jordan III
W. Duke Kimbrell
1994
Grover A. Gore
E. Carroll Joyner
Edward I. Weisiger, Sr.
1993
Bess Ballentine
H.D. Cornelius
James A. "Ott" Jones
1992
Marcus B. Crotts
Charles A. Hayes
Norfleet L. Sugg
1991
Charles E. Branscomb
Earle L. Edwards
Ned E. Huffman
1990
James W. "Willie" York
1989
George M. Wood
1988
Joseph D. Moore
1987
William C. Friday
1986
John T. Caldwell
Hubert V. Park
1985
A.M. Fountain
John N. Gregg
James B. Hunt, Jr.
1984
M. Edmund Aycock
Frank A. Daniels, Sr.
James D. Kilgore
1983
Clifton L. Benson, Sr.
Lexie L. Ray
Walter L. Smith
1982
T. Clyde Auman
W.C. Calton
Mary Elizabeth Poole
1981
George E. Norman, Jr.
Ralph H. Scott
1980
Wally Ausley
Charles H. Reynolds
1979
Henry A. Foscue
Claude S. Ramsey
Ellen Winston
1978
L.R. Harrill
H.W. "Pop" Taylor
1977
Raymond A. Bryan, Sr.
Gertrude M. Cox
C. Horace Hamilton
1976
A.E. Finley
Mose Kiser
R. Walker Martin
1975
Carey H. Bostian
Roy H. Park
Richard J. Reynolds, Jr.